Omega Chase Deluxe - Collector's Edition
was released in
2000
by
Christopher Tumber
. This edition was limited to 50 copies and were all signed and numbered on the box insert, manual insert and cartridge label. The PCB was housed in a
ColecoVision
cart and featured 2 gold painted Omega Chase ships on the bottom of the cart. There was no
overlay
and the cartridge came stored in a clear VHS clamshell with velcro to secure the cart in place. The ROM itself included 3 versions of
Omega Chase
plus the game
Zap
. While
Omega Chase
,
Omega Chase Deluxe
and
Zap
were all found on the standard unlimited version of
Omega Chase Deluxe
, only the Collectors Edition features a version with unlimited lives. This game originally sold for $50 and has long been out of print.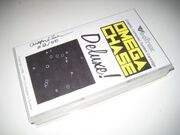 Ad blocker interference detected!
Wikia is a free-to-use site that makes money from advertising. We have a modified experience for viewers using ad blockers

Wikia is not accessible if you've made further modifications. Remove the custom ad blocker rule(s) and the page will load as expected.